Have you ever thought of building your own custom frame, one that is made just for you?
Well I did… but I didn't build it.  That was the job of Michał Plech at 'Tempest Fabrications' in Manchester. I am proud to say it was his first frame.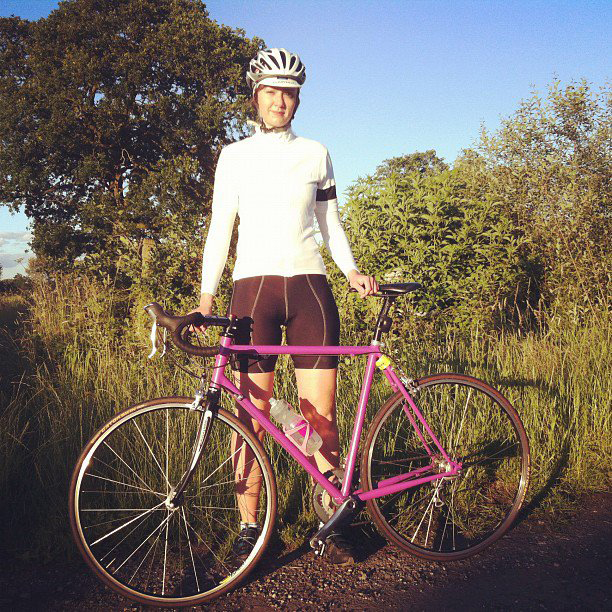 Too early on in my twenties I was suffering from lower back issues. After much pain and frustration at not being able to ride, I had an MRI scan on my spine.  Through this I discovered that I had slightly herniated a disk at L5, S1. I figured from being tall and maybe riding my road bike in an aggressive posture and pushing big gears up hills – because I could!
I've never really known what caused the injury and accepting that I will never know is part of the journey of pain so to speak. You don't always know the cause and you realise it is a pain that you have to learn to manage. It's funny – I only I learned about John Bonica the other day – the Father of Pain Management and he sprung to mind just now whilst writing this.
Anyway, I went to some yoga classes which helped and I got back on my bike. Out of neccesity I learned to adapt my pedalling technique. Now I have a higher cadence making me quick(…ish) up hills. Which is great.
The injury encouraged me on to go to Manchester Velodrome to Pedal Precision and have my bike set up.  An investment I highly recommend. Measurements were taken from the session to use when building the steel touring frame. I sold my Genesis Flyer Fixie to help pay for all the components and the Signal Violet paint job and presto…in July of 2012 I had me a grown-up custom touring bike.
It had a Shimano Tiagra compact group set on it and I used it for all sorts: commuting, sportives and little tours. It has been my go-to bike for a few years and I feel that I am lucky to have it and to be able to ride it!
I recently had the bike upgraded after feeling all inspired about paint and dreaming of more gears.
But that's for another time.
Image by Masarapmatulog, Pixbay