Life is what happens when you are making other plans. I believe this to be true yes... but I also believe that if you have an idea in your head all it takes is some planning and saving to achieve it. Around one year ago I wrote this
Life is what happens when you are making other plans. I believe this to be true yes… but I also believe that if you have an idea in your head all it takes is some planning and saving to achieve it.  There will not be a perfect time to do something, it's just a case of doing it. Around one year ago I wrote this (read the full thing here)
"The question I have been asking myself is, am I brave and capable enough of being as adventurous as I would like to be. To go cycle touring  on my own for example. I say yes of course, but I've yet to do it.

There's nothing actually stopping me from booking a flight to Milan with my bike and meandering my way to Italy's Stelvio Pass on a scenic railway journey, that undoubtedly would make my heart sing and wonder what the hell I was ever worrying about…"
Well I am happy to say that I am writing this from Milan. And my heart has sung at the beautiful, life-affirming views that I have sought. And I have found myself thinking whilst making a cup of tea that travelling alone is easy enough. I just had to feel the fear and do it! I can't say that I have extensive travel experience really. I've not been around the world or had a gap year. But what I do have in abundance are people skills and common sense. These personal attributes are very helpful when you step outside of a comfort zone. And let's be honest, what I am doing is not extreme.
Life has taught me that there is no perfect time to make or allow something to happen. The idea for this adventure has been in my head for more years than I care to admit and It has taken a lot for me to get here. I have re-homed my wonderful cat Haku. Quit my job as a Photography Retoucher and moved back to my parents house. I have even left my boyfriend behind, but that's okay. He is coming to see me soon enough.
So why have I come to Milano…well I love Italy. My main reason for being here is the  CELTA (English Language Teaching to Adults) course. I see this as a ticket somehow out of a life of desk sitting. One that can open up more travel possibilities and ultimately align me better with my souls purpose if you will. I'm great with people, so I figure I should work with them in some capacity. That bit, I haven't quite got figured out yet.
Since arriving on the 12th of May I've made half a dozen new facebook friends. From photographers to cyclists to other coincidental creative encounters.  It's also put me in touch with old acquaintances.
I've been to the beautiful Lake Como where I rented a bike and cycled around some of it. A dream was realised that day, and I was very happy!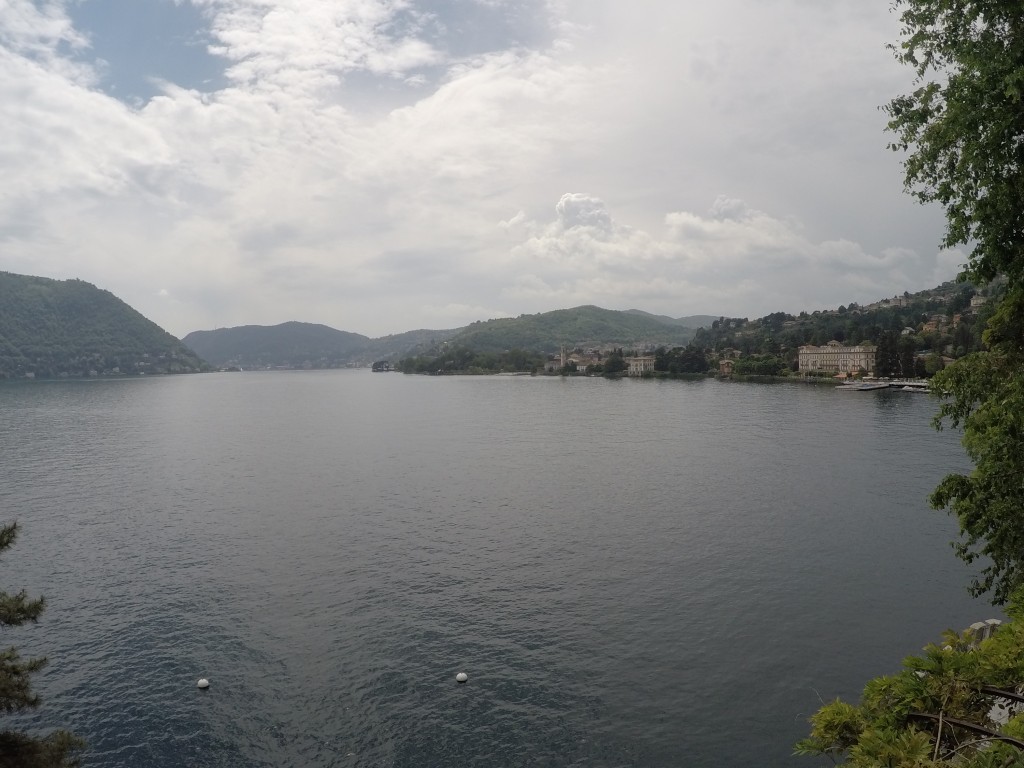 While there I met a fellow cyclist – Simone. Who chatted with me about cycling, racing, work… life. He showed me some bella viste. Bought me an espresso and a gelato and even carried my backpack for me for a short distance. He insisted and I reluctantly accepted his kind offer. To be honest it weighed a ton and it was cutting in to my shoulders and giving me a bit of nerve pain.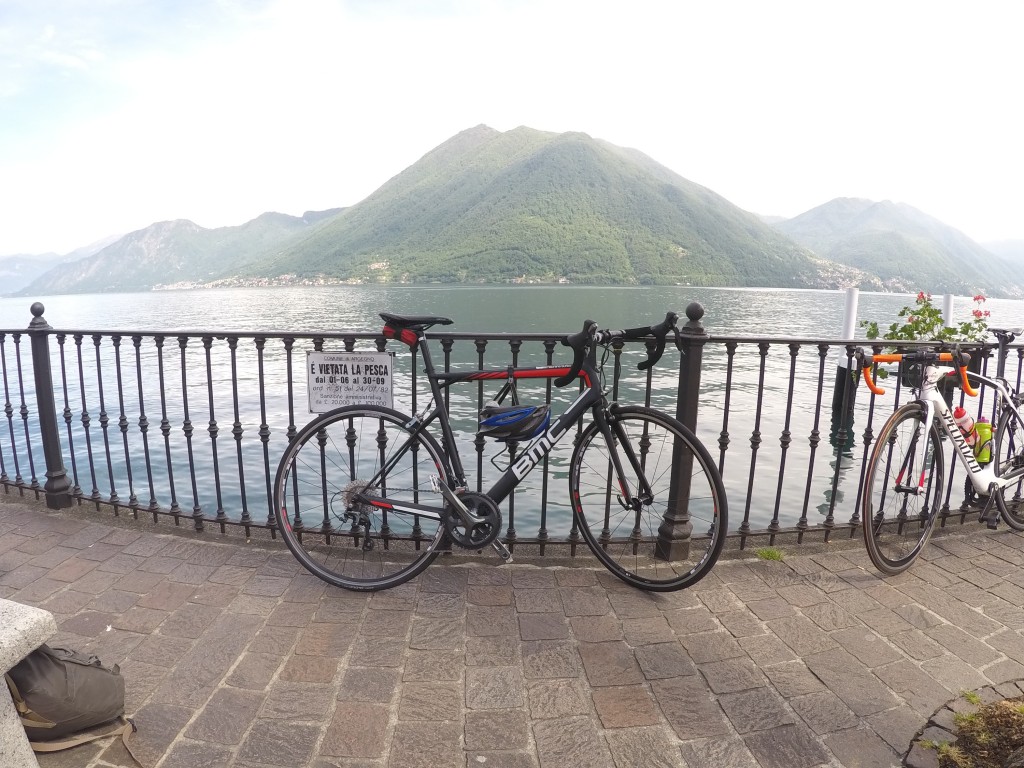 I've also visited Switzerland's Lake Lugano, where despite being told by a couple of people en-route that the funicular railway was closed for repair, I found it open! There with some other keen tourists I caught the last train to the top of Monte Bre. They helped me with the ticket… the guard made Anna one of the group pay for four tickets instead of their three… he had knowingly included mine leaving us to sort it out. A very Italian approach…I dare say. Although it resulted in a small discount for me due to the group generosity. Even more generosity was shown, when they then took me back to the train station so that I could catch my train on time. (The next one was in two hours which meant I would get back quite late). It was a bit of a stressful drive for them and I'll be forever grateful for the kindness of strangers. I got out on a corner, the road heavy with traffic, shouted Grazie Mille in to the car and legged it to the platform, where I attempted to look breathlessly casual as the train had not yet arrived. If that was Japan, I would have definitely missed that train.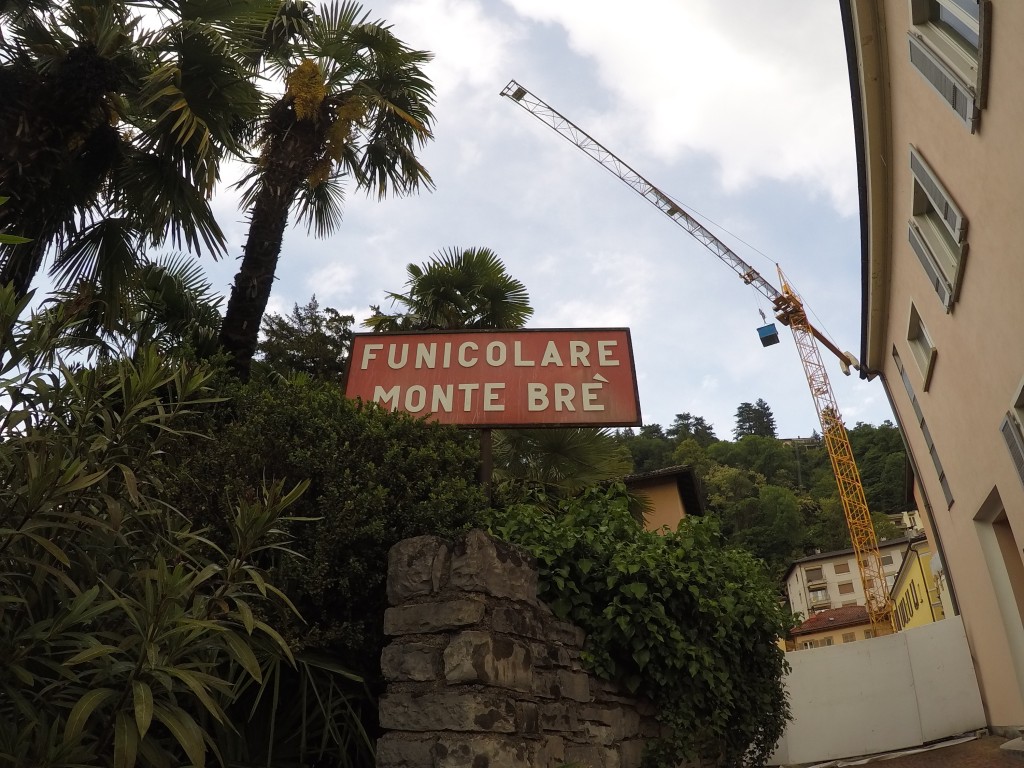 Now after my first few days here I just want to see more and more. Preferably by bike! For that reason, I want this course, and all of the crazy hard work that I fear is awaiting me – to be done already. For that is when I see Richard and we head to Bormio, on my birthday to go and ride some bikes. But that's my impatience talking. Hopefully lots of more interesting and wonderful things will happen between now and then and I will pass the course without developing any grey hair.